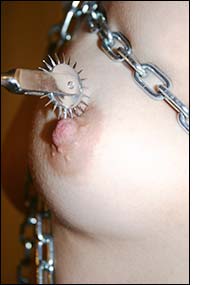 "Sensation play" is a generic term for anything that involves stimulating your partner various tactile ways. Sensation play encompasses a range of activities, from touching your lover with soft fur or cloth, to using ice cubes or pointed objects drawn sensuously over your lover's skin. Sensation play is often a good answer to "Okay, I've tied my partner up, now what?"--though of course you need not mix bondage with sensation if you choose not to.
At its most basic, sensation play is nothing more than the creation of unusual sensations in your partner. Most people have engaged in this kind of play in some form or another, possibly without even being aware of it. If you've ever stroked your lover with a soft cloth or used a feather to tickle your partner, you're familiar with the idea of sensation play.
All kinds of different sensations can be created very easily, especially if your partner is blindfolded and can't anticipate what will happen next. It's particularly fun to combine sensation play with bondage, and some forms of bondage are themselves designed to create interesting sensations.
Moving beyond feather ticklers, you can experiment with textures (rough objects like sandpaper, and soft objects like fur, can be drawn over your partner's skin), temperature (ice cubes, metal objects kept in the freezer, and objects heated with warm water all make interesting choices), pinpricks (pointed objects like the Wartenberg wheel shown here, for example), and other forms of sensation. The ideas here will suggest some places to start.

Fun, easy, non-threatening things to explore and experiment with. These ideas will probably get your imagination going and act as a catalyst for new things to explore, as well. Try combining sensation play with some of the other things talked about elsewhere on this site to mix things up and keep your partner guessing!
The mildest and most gentle forms of sensation play often involve the use of feathers and other light objects on the surface of your lover's skin.

This does not have to be just for novices or light players; I'll discuss some ways to combine feather ticklers with more intense impact play as well.

And since no ticklers are complete without a blindfold, some inexpensive, effective blindfolds will be shown as well.

Do you like cold? Warmth? Quick, easy, and inexpensive, temperature play is a fun way to spice up lovemaking.

If you like the sensation of heat, melted wax is easy and fun. There are several ways to do it that go beyond just dripping candles over your partner's body!

While we're on the subject of temperature play, this page describes how to make a dildo in whatever size you like from ice, using only things you can find around the house.

For mild to moderate stimulation, try something a little more unusual. Wartenberg wheels, bamboo skewers, and the like all have a place in the bedroom!

Clothespins, tweezer clamps, and other pinchy things point the way to some new sensations in bed.

These ideas are a little more intense than the ones discussed above, and add a bit of extra spice to your romantic life.
Moving beyond clothespins and simple clamps, we'll talk about some creative uses for clamps, and creating different kinds of sensations with clamps. Includes ideas for games you can play using clamps.

How to make a zip strip from common household items, and an introduction to predicament bondage.